Update, 10 a.m.
A small explosion on the summit of Kilauea volcano triggered an earthquake but there are no reports of damage.
The U.S. Geological Survey says the magnitude 5.2 earthquake happened around 4:50 a.m. today and felt as far as Hilo.
Scientists at the USGS Hawaiian Volcano Observatory say communities on the south part of the island may be impacted by falling ash.
The Pacific Tsunami Warning Center said there is no tsunami threat from the earthquake.
6 a.m.
The Hawaiian Volcano Observatory reported an explosive eruption occurred at the Kilauea summit at 4:50 a.m. today. The resulting ash plume may affect nearby areas and the wind may carry the ash plume to the southwest toward Wood Valley, Pahala and Ocean View.
Fissure 8 continues to produce a large channelized flow that is entering the ocean at Kapoho Bay. The public is advised of the laze plume produced by lava entering the ocean.
Friday, 11 p.m.
Lava fountains from fissure 8 are reaching heights of about 200 to 220 feet.
There are no reported significant changes in the fissure 8 flow field, which continues to push lava to the ocean entry at Kapoho.
Two steam plumes are rising from the ocean flow front and being blown inland.
"Strong thermal upwelling was noted in the ocean extending up to 1000 yards out to sea from the visible lava front," the U.S. Geological Survey said in its latest report. "Heavy gas and steam emissions were noted at fissures 9 & 10, but lava emission is occurring only at Fissure 8."
6 p.m.
Visibility continues to be limited on parts of Saddle Road due to high levels of vog and sulfur dioxide from the fissure system moving north and settling into the area. Drivers are warned to drive with caution and visibility on some roads remain at a quarter mile.
Meanwhile a mandatory evacuation order remains for all areas of Leilani Estates, at Pomaikai Street and areas to the east. A curfew has been lifted west of Pomaikai and is open only to residents with official credentials.
Government Beach Road between Kahaki Boulevard and Cinder Road is open to residents with official credentials. There is no curfew.
1 p.m.
There is limited visibility in the Saddle Road area due to high levels of vog and sulfur dioxide from the fissure system moving north. The National Weather Service said the vog is wedging into the Saddle area. Visibility on some roads are a quarter of a mile.
The interior and southern part of Hawaii island are expected to have increased levels of vog through tonight.
The Department of Health suggests limiting outside activities and remaining indoors if you have breathing issues. Visit www.epa.gov/kilaueaairdata to monitor sulfur dioxide and hydrogen sulfide.
12 p.m.
A U.S. Geological Survey scientist said today there are no signs of impending new vents in and around the Leilani Estates subdivision in Puna, where two dozen fissures have opened since magma was first pushed out of Kilauea's Lower East Rift Zone on May 3.
"We've been tracking the overall rift zone for where it's becoming pressurized and where new fissures might form," said Steve Brantley, deputy scientist-in-charge of the Hawaiian Volcano Observatory.
"In the past few weeks the overall rift zone has been stable and there's been a nice steady stream of magma moving through the rift zone and eruption at Fissure 8," with no indication of pressurization elsewhere, Brantley said during an 11 a.m. phone briefing with reporters.
The USGS has been conducting overflights of the eruption area three times a day, as well as conducting field observations. Crews are checking for new cracks in the earth, tracking whether existing cracks are widening or extending longer distances, and checking for increases in temperature and steam output — all signs that magma is nearing the surface.
"So far we have not seen much change in those cracks uprift of where the fissures are located now," he said.
Lava fountains and flow from the Lower East Rift Zone are continuing at the same strength as over the past one to two weeks, with most of the action at Fissure 8, Brantley said.
Lava from that vent continues to fountain and is feeding a mile-wide flow front into the ocean at Kapoho.
The latest Kilauea eruption has destroyed 600 homes.
9:45 a.m.
High levels of vog and sulfur dioxide are wafting north and hanging over the Saddle are on Hawaii island this morning.
Hawaii County Civil Defense officials advise the public to drive carefully due to poor visibility in affected areas. The interior and southern areas of the island are expected to see elevated levels of vog until tonight.
Due to volcanic emissions and changing wind conditions, Civil Defense is offering the following guidance:
>> The Department of Health recommends limiting outside activities and stay indoors if you have breathing issues.
>> Stay alert and be ready to leave the area should conditions change.
>> N-95 masks that were distributed are for ash or vog particulate and will NOT protect from gasses or vapors, including SO2.
>> You can monitor sulfur dioxide and hydrogen sulfide on Hawaii Island by visiting the Civil Defense website or go directly to www.epa.gov/kilaueaairdata.
Strong lava fountaining at fissure 8 continues, reaching heights up to 220 feet overnight, according to Hawaiian Volcano Observatory officials. There were no significant changes in the fissure 8 flow field observed in this morning's overflight. And though there is no lava activity from the other fissures, fissure 24 is glowing incandescent and fissures 24, 9 and 10 are "fuming heavily," the HVO said.
7:45 a.m.
Weather officials expect winds to shift more easterly or southeasterly this morning through Saturday morning, pushing ash to the west and northwest of Kilauea.
Trace amounts of ash and Pele's hair is expected to fall over northern Kau, Puna, South Hilo and the Saddle area, the National Weather Service said.
5 a.m.
Another small explosion occurred early this morning at Kilauea's summit and generated a moderate ash plume.
The explosion occurred at 2:44 a.m. and was accompanied by a magnitude 5.2 earthquake centered 4 miles southwest of Volcano at a depth of 1 kilometer, according to the U.S. Geological Survey. The ash plume that followed reached less than 10,000 feet.
No tsunami was generated.
THURSDAY, JUNE 7
5 p.m.
Hawaii County Mayor Harry Kim says lava from Kilauea volcano has destroyed more than 600 homes since early last month.
Kim told reporters in Hilo today the total includes about 320 homes in the coastal community of Kapoho. It also includes all homes in Vacationland.
Kilauea began erupting lava in a residential community on May 3. Lava has since been pouring out of large fissures in the earth and down to the ocean.
Hawaii Gov. David Ige says the state was giving the county $12 million to help it respond to the eruption.
He says it will help pay for overtime, food and equipment, noting county employees have been working an around-the-clock operation for almost 40 days.
2:45 p.m.
While a mandatory evacuation order continues for Leilani Estates, Pomaikai Street and to the east, Hawaii County Civil Defense today lifted the curfew west of Pomaikai.
Access is being limited to residents with credentials only.
A community meeting on volcanic ash and vog will be held tonight in Volcano at the Cooper Center at 7 p.m.
10 a.m.
In just three days, lava has destroyed close to 500 homes at Vacationland and Kapoho Beach Lots in Pahoa.
"It hurts like hell," said Hawaii County Mayor Harry Kim at a briefing with emergency responders at the Hawaii County Civil Defense building early today. "What we lost is the most beautiful place on earth."
Lava has overrun all of Vacationland where there were approximately 150 to 160 homes. At Kapoho Beach Lots, approximately 320 of 350 homes there are gone.
Civil Defense Spokeswoman Janet Snyder said Kim estimated a minimum of $5 million a mile is needed to repair destroyed roads.
9:15 a.m.
Lava fountaining at fissure 8 fluctuated overnight, Hawaiian Volcano Observatory officials said, reaching heights up to 230 feet.
The activity from fissure 8 continues to feed a lava channel flowing east to Kapoho Bay. Although the northern lobe of the fissure 8 flow is not receiving significant quantities of lava and the formerly active lobe on the west side of the Four Corners cinder pit is now inactive, lava is entering the ocean along a broad front around Kapoho Bay and Vacationland.
No other fissures are active.
6:30 a.m.
"Vigorous" lava eruptions continue in the lower East Rift Zone this morning as fissure 8 remains very active, according to Hawaii County Civil Defense.
Lava entering the ocean along the Kapho coastline continues to produce a large laze plume.
5 a.m.
Lava continued to fountain at fissure 8 Wednesday night, reaching heights between 130 to 210 feet.
Meanwhile, downstream, lava continued to enter the ocean in the Vacationland subdivision. However, lava from the main channel flowing into Kapoho was not feeding the northern lobe as of 3 a.m. today.
MORE KILAUEA COVERAGE
>> Scientists reap mountain of data from rumbling Kilauea volcano
>> New coastline emerges as Kilauea pumps more lava to the sea
>> Norwegian Cruise Line will resume Big Isle port calls
>> 7 more citations issued to loiterers in active Kilauea eruption zones
>> Residents feel safe despite lava but chafe at government controls
>> Hawaii County Mayor Harry Kim loses home to lava
>> Kilauea dashes Oahu newlyweds' dreams
>> Governor signs proclamation on housing and criminal penalties
>> Lava buries Vacationland, pours into ocean
>> Website to centralize Big Island air quality reporting
>> Kilauea eruption harms up to half of Malama Ki forest reserve
>> Volcanoes National Park's most important facility damaged by quake
>> Fire helicopter rescues woman, her pet rabbit and chicken isolated by lava
>> Man charged with running Puna checkpoint near approaching lava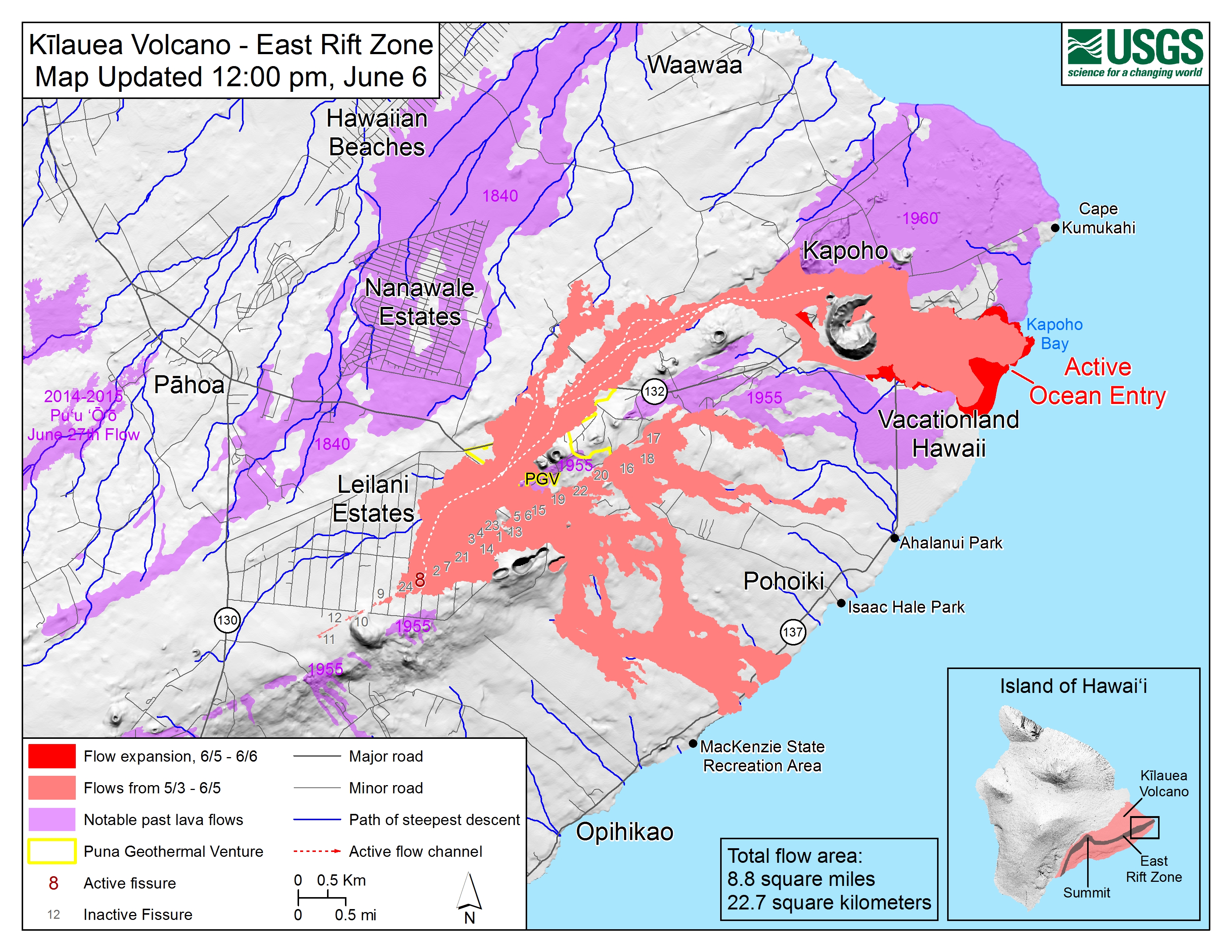 Given the dynamic nature of Kilauea's lower East Rift Zone eruption, with changing vent locations, fissures starting and stopping, and varying rates of lava effusion, map details shown here are accurate as of the date/time noted. Shaded purple areas indicate lava flows erupted in 1840, 1955, 1960, and 2014-2015 (see large map).
---
The Associated Press contributed to this report.
---